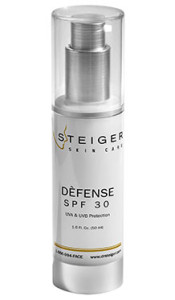 Defense SPF 30 Sunscreen
Defense 30 SPF hydrates and shields the skin during sun exposure. It provides 17% Micronized Zinc and liposome encapsulated antioxidants in a moisturizing formula offering the highest level of broad-spectrum protection. Vitamins A, C and E nourish and combat free-radical damage to delay the signs of aging. Green tea extract helps reduce inflammation and redness associated with sunburns. Great for acne prone skin, since it does not clog pores. The matte finish is perfect to wear under your makeup and works well in conjunction with anti-aging serums and treatments.
Product Description
Defense SPF sunscreen with liposomal encapsulated anti-oxidants and 17% micronized Zinc Oxide (no white residue).