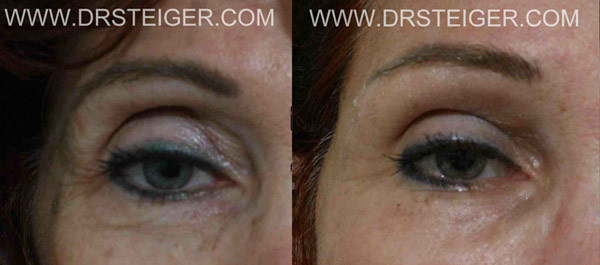 Restorative Plastic Surgery- Say No To Hollow Eyelids
It has been said that the eyes are the window to the soul. This speaks loudly, as the goal of any facial rejuvenation procedure is to restore attention back towards the eyes. What happens when that window is missing its drapes!
We often see patients that come in and have had prior blepharoplasty or eyelid surgery, where too much fat or skin has been removed. This defeats the purpose of cosmetic surgery as it does not make you look younger. In fact it makes you look older and un-natural.
A youthful eyelid is almost always associated with fullness around the eyes. Just take a look at any current fashion magazine. Take a look at some of the famous actresses and models today. All of them, almost invariably, have fullness to their eyelids.
That being said, preservation of this fullness must be maintained whenever performing eyelid rejuvenation and blepharoplasty. This means removing just the right amount of skin from the upper eyelid, and in most cases NEVER removing fat from the lower eyelid. For this reason, I perform a fat repositioning lower eyelid blepharoplasty that moves the protruding fat downwards instead of removing it, in order to prevent that hollowed out look. This is a story for another day, but you can read more here.
So what happens if too much skin, fat, etc. has been removed? This can be a difficult problem to treat. It is restorative plastic surgery. The case below is a woman who had no extra skin or fat in her eyelids (from prior surgery), yet she looks older purely because her eyes are too hollow. Since are minds have a harder time thinking in terms of addition (adding volume), I will show you these before and after fat grafting photos to give you a better idea. Take a look at how fat grafting her periorbital region (upper and lower eyes) has given her back years of youth and restored an attractive,youthful eyelid.