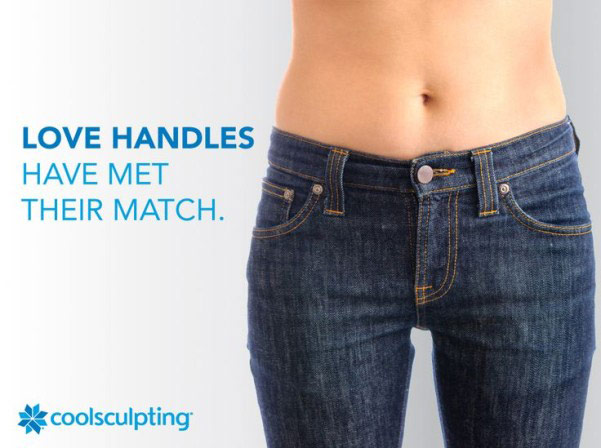 CoolSculpting: Eliminating the Dreaded Muffin Top
No matter how healthy they eat or how much they exercise, for some patients, it seems like the muffin top – the area of fatty flesh that spills over the waistline of pants, skirts, shorts, etc. – is impossible to eliminate. However, thanks to CoolSculpting®, patients can say goodbye to this irritating area of fat in an easy, non-invasive manner – without downtime.
With CoolSculpting, a targeted cooling procedure kills fat cells underneath the skin in the muffin top area, and freezes them until they are eliminated. Once they crystallize, the fat cells die and are naturally eliminated from the body through the lymphatic drainage system.
CoolSculpting isn't like other fat removal or reduction procedures. It doesn't burn, shatter or extract any cells. There are no knives, suction hoses, needles or scars.
During CoolSculpting, a simple skin protecting gel pad is applied to the skin in the muffin top area. A CoolSculpting applicator is placed over the muffin top, cooling the fat cells to destroy them. However, the procedure doesn't affect healthy skin cells. The temperature required to destroy fat cells is warmer than what would result in damage to skin, muscle and nerves.
Developed by Harvard scientists, CoolSculpting is cleared by the FDA and is a patented procedure. Each treatment takes approximately one hour – patients can even undergo a treatment during their lunch breaks! They can relax and read a book, watch a movie, or use their phone or laptop during the procedure – the only pain they might feel is a pinching sensation.
It takes a few months for patients to fully feel the effects of CoolSculpting, while the body eliminates the fat cells. Most patients start noticing results in the muffin top area about two months after the procedure, but improvement could continue after three months. While most patients need only one treatment, repeat treatments can be performed after three months. If patients continue a healthy diet and exercise habits, they should experience longtime results in the muffin top area.
While CoolSculpting is a fantastic way to lose a muffin top, it's not for everyone. Patients must consult with a qualified physician to determine if liposuction or surgery may be a better option for them. Contact Dr. Steiger to find out if CoolSculpting is an option for you to get rid of your stubborn muffin top.