No Downtime Fractional CO2 Laser Peel – Express Peel
The advent and popularization of the fractional CO2 laser has been a big step forward in reduced downtime laser peels that actually work. Since purchasing the latest, Premium model of the fractional eCO2 laser, we have amassed a significant clinical experience with the laser.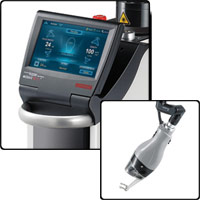 As with any tool, the CO2 laser can be used in many different ways. This is akin to giving a surgeon a scalpel. A facelift can be performed with this tool, as much as a rhinoplasty or a removal of an appendix. The laser is no different as there are multiple combinations of energy, density, and methods of delievery of the pulses.
This being said, over the past year we have used this laser with remarkable results and only 4-5 days of downtime. However, some of our patients could not even afford that kind of recovery due to there busy schedules. This has led us to develop a protocol for a no downtime fractional CO2 laser peel that works! The laser settings that we have developed allow the procedure to be performed with none of the downtime of the already low down time fractional peel.
The Express CO2 Peel is performed over a course of 3 treatments. These treatments are performed 3 weeks apart. The settings are tweaked with each treatment in order to provide the best results with no downtime. The procedure takes a total of 20 minutes to perform each time. Thus far, every patient that had this peel performed has referred friends in for the remarkable results.