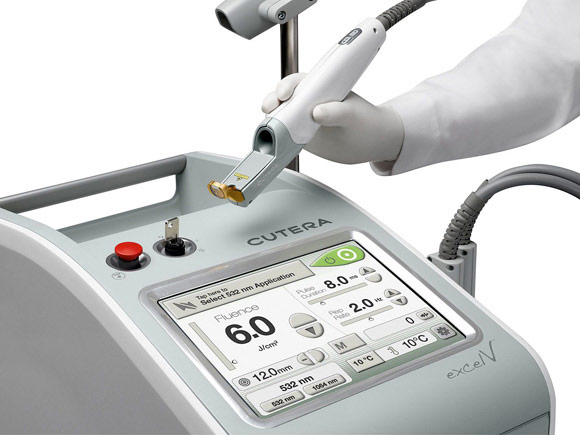 Laser That Gets Rid of Bruises
Bruising can often occur after any plastic surgery procedure.  This includes Facelift Surgery, Eyelid Surgery  and Rhinoplasty Surgery. It can also occur after injections of facial fillers and rarely with Botox. There are several things that can help speed up the resolution of bruises and speed up your plastic surgery recovery.   Patients are encouraged to ice the area for the first 48 hours after surgery. This is a critical time to prevent swelling and bruise formation. Although icing is extremely helpful in minimizing and reducing the appearances of bruises,  they can still form.
We are proud to provide our patients with laser treatment for bruises. Yes, laser!   Newer lasers can be applied to bruises and significantly expedite the resolution of bruises.  The Excel V laser is a vascular laser that can treat bruises.  Dr. Steiger has developed a protocol with this laser that works to eliminate bruises much faster then they would on their own. Now bruises can be lasered away.
Patients who bruise can come to our office the day after a procedure or later to have their bruises lasered. There is a noticeable improvement immediately that gets better with time.   In the photo attached you see a patient who had a large bruise on her leg after falling at home.  The upper portion of the bruise was lasered with Dr. Steiger's Excel V laser for bruising settings.  The photos show that after two days, the part of the leg that was lasered has almost no bruise. The unlasered part of the bruise is still there. This is obviously a very helpful tool that allows patients to recover from plastic surgery as fast as possible.
Many steps are taken by Dr. Steiger to reduce and eliminate any chances of bruising from any procedure.  However, it is nice to know that just in case you may have bruising, we can help. It is all about going that extra mile!
Dr. Jacob D Steiger MD is South Florida facial plastic surgeon board certified by the American Board of Facial Plastic and Reconstructive Surgery and the American Board of Otolaryngology- Head & Neck Surgery. He practices in Boca Raton and Delray Beach, Florida treating patients from Palm Beach, Ft. Lauderdale, Miami, as well as patients from all over the US and from around the world.