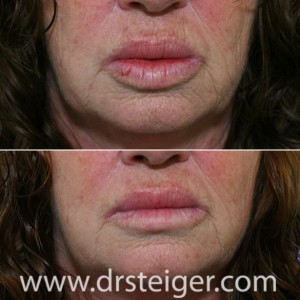 Lip Reduction Surgery
Lip reduction surgery is performed to reduce the overall size of the upper and/or lower lips. This is in contrast to Lip Augmentation, which is usually performed to enlarge the lip size. Lip reduction has received a great deal of press lately in light of Lisa Rinna having her lips reduced. Since I have seen all kinds of different reports lately about lip reduction, I wanted to shed some light on the topic.
There are several reasons someone may want to have lip reduction surgery:
1) Silicone Injections: I see this most commonly in practice when someone has had some type of permanent lip injection, such as silicone, and the lips have become too large. This is the case in the lip reduction before and after photo shown above.
2)Congenitally Large Lips: Someone is born with excessively large lips, they are self conscious about this, and they would like their lips reduced.
3) Lip Deformity from Injury Finally, I have seen several cases of people that have had some type of an injury to their lips, and scar tissue has formed on one side more then the other. Lip reduction can be performed in order to help obtain improvement in the appearance of the lips in these cases.
The Surgery:
The procedure is most commonly performed in my office procedure room under local anesthesia. All of the incisions are hidden in the back of the lips, so they are not noticeable, and they heal quite well. Swelling is common and can take weeks or more to subside. There is also minimal pain with the procedure, and my patients rarely even need to take any type of narcotic pain medication (though I prescribe it just in case). This is not as difficult of a surgery to recover from as some of the media has made it out to be.
Overall, lip reduction surgery can be very rewarding for people who are afflicted with some of the issues discussed above. I would recommend you see a board certified surgeon who has experience in lip surgery in order to best evaluate the benefit that can be obtained from the procedure.