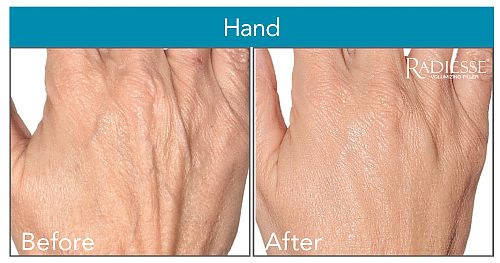 Radiesse, FDA Approved for Hand Augmentation, Eliminates Telltale Sign of Aging
The hands used to be the second most obvious indicator of age, after the face. Now, Radiesse, recently approved by the U.S. FDA for hand augmentation to correct volume loss in the dorsum (back) of the hands, can provide smooth and natural-appearing results in the hands.
Manufactured by Merz Aesthetics, Radiesse is the first and only dermal filler approved by the FDA for use in the hands. It provides an immediate volumizing effect, while also decreasing the prominence of tendons and veins in the hands. Milky in color, Radiesse is nontransparent, so it's superb for hiding veins. It's injected under the skin in a fanning motion.
Radiesse is made of calcium hydroxyapatite, a naturally occurring mineral in the body. Because it's synthetic (not derived from human or animal tissue), there's no risk of infectious transmission. In fact, it was first approved by the FDA in 2006 to fill smile lines, and has since been used to fill in lines and wrinkles, and reshape the facial contour.
It is important to see a physician experienced with injecting fillers such as Radiesse into the hands in order to get the best possible results. When injected into the hands, Radiesse can involve minimal side effects, such as swelling, redness, pain and bruising, usually mild to moderate, and typically lasting about one week.
Thanks to Radiesse, the hands are no longer the go-to area for signs of aging. Contact Dr. Steiger for more information about how you can restore volume to your hands for a more youthful appearance.
Dr. Jacob D. Steiger, M.D. is board certified by the American Board of Facial Plastic and Reconstructive Surgery and the American Board of Otolaryngology – Head & Neck Surgery. He practices in Boca Raton and Delray Beach, Florida, treating patients from Palm Beach, Ft. Lauderdale, and Miami, as well as patients from all over the U.S. and around the world.