Jaw Reduction Before and After Photos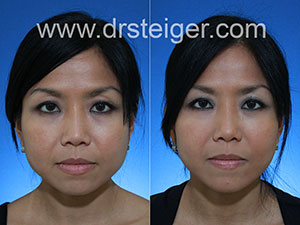 Goals: Before and after photos of a patient who had Botox for jaw reduction. Botox or Dysport are both used for jaw reduction and can give excellent results.  This is a result of Botox after the jaw reduction treatment. Notice the slimmer appearance to her face and less angulated jaw line (mandible).
Dr. Jacob D Steiger MD is board certified by the American Board of Facial Plastic and Reconstructive Surgery and the American Board of Otolaryngology- Head & Neck Surgery. He practices in Boca Raton and Delray Beach, Florida treating patients from Palm Beach, Ft. Lauderdale, Miami, as well as patients from all over the US and from around the world.