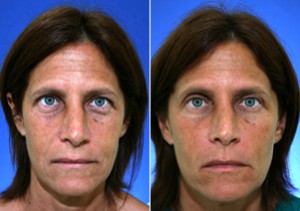 The Latest Facial Fillers: Smoother Consistency for a More Natural Look
A younger, natural look: This is a main reason patients opt to get facial fillers. Today, the latest facial FDA-approved fillers, including Restylane® Refyne, Restylane® Defyne and the soon-to-be introduced Vollure™, give physicians more control to achieve the most natural and effective results. The fillers treat and enhance moderate to severe wrinkles on the nasolabial folds (smile lines or laugh lines), and give structural support to the mid-face area and cheeks.
Restylane® recently launched two facial filers in the U.S.: Refyne and Defyne, which provide smoother consistency over other fillers. What does this mean? Less visibility of the product during facial expressions, aka, a more natural look.
While Refyne has more flexibility and can be used in shallower folds and wrinkles, Defyne — which has less flexibility — provides more structural support for deeper folds and wrinkles. Both can last up to 12 months.
Coming soon is Vollure, created by the makers of Juvéderm®. Lasting from 12 to 15 months — longer than similar facial fillers — Vollure will be used to treat nasolabial folds.
Yet another benefit of the newer facial fillers: They all come with lidocaine, which minimizes pain or discomfort, within the injection. This makes today's injections more comfortable than ever before. Fillers are commonly combined to offer the best results.
All of the new products are made of hyaluronic acid. What sets them apart from each other are the concentration of the acid and the amount of cross-linking they have. Refyne and Defyne are different from Restylane and Restylane Lyft, in the manner the products are cross-linked. This causes the smoother appearance and various support levels. Vollure is said to have a lower concentration of hyaluronic acid, which is more effectually cross-linked. This means smoother-appearing, longer-lasting results; and less swelling than older fillers.
According to acclaimed facial plastic surgeon Jacob D. Steiger, M.D. of Steiger Facial Plastic Surgery in Boca Raton, Florida, fillers are not necessarily replacements for surgery. Surgery, fillers, and lasers all attain different results, and treat particular issues related to facial aging. He says that 20 years ago, surgery was all there really was to effectively rejuvenate a face. However, as knowledge and technology have advanced, physicians can now better customize the proper treatment for the signs of aging.
While fillers specifically help to treat volume loss and the face's related structural support, Dr. Steiger says that surgery helps treat sagging skin, muscles and deeper ligaments of the face. He emphasizes that different procedures are necessary to achieve desired results during different aspects of the aging cycle.
Physicians have amazing tools to keep their patients looking their best. It's important for patients to maintain a good relationship with an experienced provider, who can help them age gracefully and with natural-looking results.
Patients who are interested in finding out more about the latest facial fillers can contact Steiger Facial Plastic Surgery for an appointment with Wendy Mendez PA  or Jacob D. Steiger MD at 561-499-9339 or toll-free at 866-994-FACE (3223).