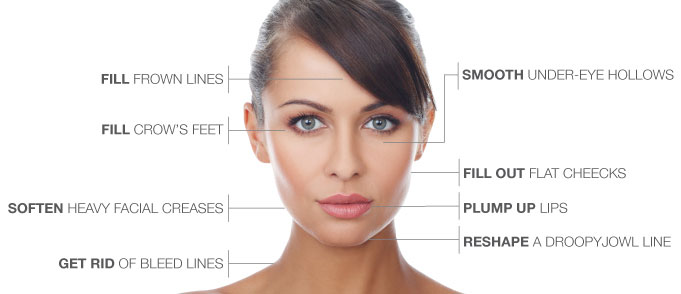 Why is Nonsurgical Facial Rejuvenation So Popular?
A bit of BOTOX®, or a full-fledged facelift?
According to the American Society of Plastic Surgeons (ASPS), in 2013, patients in the U.S. underwent 6.3 million BOTOX treatments, as compared to only 133,000 facelift procedures. The American Society of Aesthetic Plastic Surgery (ASAPS) reported than nonsurgical procedures increased in 2013 by a whopping 13.1 percent over 2012. While the numbers of both cosmetic surgical and nonsurgical procedures are on the rise, nonsurgical procedures continue to become increasingly popular among patients in the U.S. Why?
The top three non-invasive facial cosmetic procedures, according to the 2012 ASPS report, are:
Soft tissue or dermal fillers, which temporarily plump up areas around the eyes, mouth, cheeks, nose, brow and jawline and can improve the appearance of facial scars. Bellafill is the latest dermal filler approved by the FDA for acne scarring. Other dermal fillers commonly used include, Restylane, Restylane Silk, Perlane, Radiesse, Juvederm, Voluma, and  Radiesse Plus.
Chemical peels, which can smooth the facial skin's texture.
Here's a few reasons why an increasing number of patients are choosing nonsurgical treatments over surgery:
People are busy.
Patients have demanding work schedules, kids who need constant attention, and vacations to plan. Carving out the time to undergo surgery and having possible weeks of downtime just isn't convenient for some people As opposed to surgery, many nonsurgical procedures can be completed during a lunch break. Some take only a few minutes. In many most cases, results can appear in only a few days.
Patients want to test the waters.
Before opting for surgery, many people take the "try and see" approach. With nonsurgical procedures, patients can feel out if they like their enhanced appearance – and if they don't, it's temporary. With surgery, it's not. More patients are doing intense research today to see what's right for them.
Nonsurgical procedures offer lower risk factors and lower complication rates than surgery.
Nonsurgical procedures are simply less complicated that surgery. Most dermal fillers are based on substances that the body naturally produces, making the chance of adverse reactions small. And of course, no incisions, scars or recovery time are involved with nonsurgical procedures.
It's a break from stress.
Having a chemical peel or facial is almost like enjoying a day at the spa. Patients feel as if they are indulging themselves when they undergo these treatments.
There are an ever-increasing number of nonsurgical options.
Compared to surgery, there are many nonsurgical facial rejuvenation products and treatments, and pharmaceutical companies are continuing to develop more. While BOTOX is just one type of muscle relaxer than can smooth wrinkles, there's also the latest option, ThermiRase™, which provides longer-lasting results – and many other BOTOX alternatives. Soft tissue or dermal fillers include choices such as Restylane® and Perlane®, RADIESSE® and more. Those who wish to have a chemical peel have options such as superficial peels, and medium and deep peels.
When undergoing any nonsurgical facial rejuvenation procedure, whether Botox, a skin peel or dermal filler injection, it's very important to see an experienced, board  Facial Plastic Surgeon that uses the most advanced products available on the market and can provide you with the highest quality products and care.